University of Maryland Announces First Statewide High School Business Plan Competition
FOR IMMEDIATE RELEASE March 30, 2012
CONTACT:

Eric Schurr
301 405 3889
schurr@umd.edu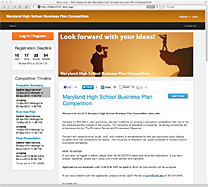 COLLEGE PARK, Md.—The University of Maryland is hosting the first statewide high school business plan competition in Maryland, university officials announce today.
The Maryland High School Business Plan Competition gives entrepreneurial high school students the chance to win up to $10,000 in cash and prizes for the best ideas for new ventures. Initial entries, due April 9, require just an executive summary. Students can enter at http://hsbpc2012.istart.org.
"At the University of Maryland, we are committed to fostering and supporting entrepreneurship at all levels," said James V. Green, director of entrepreneurship education at the university's Maryland Technology Enterprise Institute (Mtech), which is managing the competition. "This is especially important during the critical high school years, when energies and ideas flourish. We want to encourage and reward the students generating those ideas."
All high school freshmen, sophomores and juniors in the State of Maryland are invited to apply. Team sizes can range from one to five students.
Semi-finalists will be invited to develop full business plans, with finals held at the University of Maryland campus in June.
Cash prizes will be awarded to the top teams. Awards also include scholarships to the Entrepreneurship Essentials Online Program for High School Students.
Mtech also hosts the University of Maryland $75K Business Plan Competition, now in its twelfth year, which encourages UMD students, faculty and researchers to leverage their talent and ideas to create tomorrow's leading companies. The competition process, its network of expert mentors and partners and the cash prizes awarded have helped many UMD entrepreneurs act on their dreams and build their own companies.
The competition has spurred companies such as Squarespace, Lurn, AnthroTronix, Alertus Technologies, RioRey (then MacroPhage), Remedium Technologies, FlexEl, Resensys and Traffax.
Mtech's entrepreneurship education programs featured 21 entrepreneurship courses with 865 enrollments in 2011, two living-learning programs, one community college transfer program, seed funding, and mentoring. Mtech's suite of programs add to these offerings with product development funding, free intellectual property services, entrepreneur office hours, a venture accelerator, incubator, and additional support for companies throughout their lifecycles.

About the Maryland Technology Enterprise Institute (Mtech)
The mission of Mtech is to educate the next generation of technology entrepreneurs, create successful technology ventures, and connect Maryland companies with university resources to help them succeed. Founded in 1983, Mtech has had a $27.8 billion impact on the Maryland economy and helped create or retain more than 7,000 jobs. Top-selling products such as MedImmune's Synagis®, which protects infants from a deadly respiratory disease, and Hughes Communications' HughesNet®, which brings satellite-based, high-speed Internet access to the world, were developed through or enhanced by our programs. Billion dollar companies such as Martek Biosciences and Digene Corporation graduated from our incubator. Mtech offers three experiential learning programs and 21 entrepreneurship and innovation courses, served to 865 enrollees in 2011, at the pre-college, undergraduate, graduate and executive education levels. For more information about Mtech, please visit www.mtech.umd.edu.
About the A. James Clark School of Engineering
The University of Maryland's A. James Clark School of Engineering is a premier program, ranked among the top 20 in the world. Located just a few miles from Washington, D.C., the Clark School is at the center of a constellation of high-tech companies and federal laboratories, offering students and faculty access to unique professional opportunities.
Our broad spectrum of academic programs, including the world's only accredited undergraduate fire protection engineering program, is complemented by a vibrant entrepreneurial ecosystem, early hands-on educational experiences, and participation in national and international competitions.
The Clark School is leading research advancements in aerospace, bioengineering, robotics, nanotechnology, disaster resilience, energy and sustainability, and cybersecurity. From the universal product code to satellite radio, SMS text messaging to the implantable insulin pump, our students, faculty, and alumni are engineering life-changing innovations for millions. Learn more at www.eng.umd.edu.