University of Maryland Expands Lineup of Spring Entrepreneurship and Innovation Competitions
Nearly a Quarter-Million Dollars in Prizes to be Awarded at Four Events Encompassing Startups, Business Plans, Healthcare and Clean Energy
FOR IMMEDIATE RELEASE February 9, 2012
CONTACT:

Eric Schurr
301 405 3889
schurr@umd.edu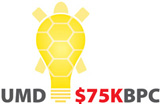 COLLEGE PARK, Md.—The University of Maryland will host four business competitions this spring, including two new, nationwide competitions focused on healthcare and clean energy. Prizes totaling $230,000 will be awarded across the four competitions spanning just over three weeks from March 30 to April 25, 2012. This new series of competitions is a collaborative effort among multiple schools and departments and aligns with UMD President Wallace Loh's strategic priority of entrepreneurship and innovation and the university's goal of creating 100 new companies over the next decade.
March 30, 2012 – Cupid's Cup, a business competition for student and alumni entrepreneurs, began in 2006, thanks to the generous support of one of UMD's most successful entrepreneurs, Kevin Plank ('96), founder and CEO of Under Armour. The competition is designed to identify and support students and young alumni who have already started their own businesses and will be held at the Stamp Student Union. A total of $25,000 will be awarded as part of the annual UMD Entrepreneurship Invitational. The application deadline is Feb. 19, 2012. Candidates must have generated at least $5,000 in revenue, won funding through a university-sponsored business competition, or have a completed product and proof of traction.
April 20, 2012 – The University of Maryland $75K Business Plan Competition, now in its 12th year, encourages UMD students, faculty, researchers, and recent alumni to leverage their talent and ideas to create compelling business plans for tomorrow's leading companies. Since its founding in 2001, $627,000 in prizes has been awarded. Five previous winners are now multi-million dollar ventures, including current and former Inc. 500 companies Squarespace and Lurn. Executive summaries are due Feb. 26, 2012. Finals will be held at the university's Riggs Alumni Center.

April 20, 2012 – The inaugural Innovate 4 Healthcare Challenge inspires students nationwide to develop solutions that radically improve healthcare outcomes by using information technology to improve patient engagement with health care providers. Universities nationwide have been invited to enter teams of as many as five members to compete for a $20,000 first prize and a pair of $5,000 runner-up prizes. The final round of presentations will be at the University of Maryland's Ronald Reagan Building and International Trade Center campus in Washington, D.C. Competitors have until Feb. 24, 2012 to register and March 6, 2012 to submit a plan for a patient-centered, healthcare business model.

April 25, 2012 – The inaugural $100K ACC Clean Energy Challenge is a result of UMD's selection by the Department of Energy to be part of its National Clean Energy Business Plan Competition to support and empower the next generation of American clean energy entrepreneurs. The ACC Clean Energy Challenge is open to students from all Atlantic Coast Conference schools, as well as other universities in the southeastern U.S. Executive summaries and a video of an investor pitch are due March 23, 2012. The ACC Clean Energy Finals will be held at the Clarice Smith Performing Arts Center, with the winner receiving $100,000 and moving on to the DOE Grand National Finals in Washington, D.C., in June 2012.
About Entrepreneurship and Innovation at the University of Maryland
The University of Maryland educates the next generation of entrepreneurs, creates successful ventures, and connects Maryland companies with university resources to help them succeed. UMD is ranked as one the nation's top schools for entrepreneurship and innovation as a result of 25 years of collaborative effort from the Dingman Center for Entrepreneurship in the Robert H. Smith School of Business and the Maryland Technology Enterprise Institute (Mtech) in the A. James Clark School of Engineering. Highlights include: three experiential entrepreneurship learning programs and 30 entrepreneurship and innovation courses serving more than 1,200 students at the pre-college, undergraduate, graduate and executive education levels; monthly entrepreneur office hours and mentoring/pitch programs with experienced entrepreneurs-in-residence; a global entrepreneurship program with partnerships in China and Israel; a technology incubator/accelerator startup program with more than 100 graduates including billion dollar companies such as Martek Biosciences and Digene; and an on-campus angel network of more than 40 active, accredited angel investors and venture capitalists for early-stage capital. UMD has had a $25.7 billion impact on the Maryland economy and helped create or retain more than 5,300 jobs. Top-selling products such as MedImmune's Synagis®, which protects infants from a deadly respiratory disease, and Hughes Communications' HughesNet®, which brings satellite-based, high-speed Internet access to the world, were developed through or enhanced by UMD programs.
More information is available at:
http://www.mtech.umd.edu
http://www.rhsmith.umd.edu/dingman
http://www.rhsmith.umd.edu/chids
http://www.umd.edu
More Information:
About the A. James Clark School of Engineering
The University of Maryland's A. James Clark School of Engineering is a premier program, ranked among the top 20 in the world. Located just a few miles from Washington, D.C., the Clark School is at the center of a constellation of high-tech companies and federal laboratories, offering students and faculty access to unique professional opportunities.
Our broad spectrum of academic programs, including the world's only accredited undergraduate fire protection engineering program, is complemented by a vibrant entrepreneurial ecosystem, early hands-on educational experiences, and participation in national and international competitions.
The Clark School is leading research advancements in aerospace, bioengineering, robotics, nanotechnology, disaster resilience, energy and sustainability, and cybersecurity. From the universal product code to satellite radio, SMS text messaging to the implantable insulin pump, our students, faculty, and alumni are engineering life-changing innovations for millions. Learn more at www.eng.umd.edu.