Mtech Announces New Warren Citrin Graduate Fellowships in Sustainability
$560K Gift from Citrin Also Supports Staff Member to Help Students Launch Companies Around Technologies
FOR IMMEDIATE RELEASE May 6, 2010
CONTACT:

Eric Schurr
301 405 3889
schurr@umd.edu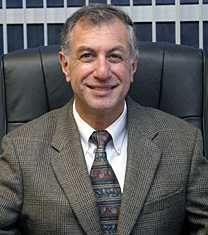 COLLEGE PARK, Md.—The University of Maryland today announces the new Warren Citrin Graduate Fellowship program, which supports graduate students in the A. James Clark School of Engineering conducting research in the broad area of sustainability.
Made possible by a $560,000 gift from Warren Citrin, co-founder of Solipsys Corp. (now Raytheon Solipsys), the program, commencing fall 2011, will provide four first-year students with $35,000 and additional financial support through the completion their doctoral degrees. The Maryland Technology Enterprise Institute (Mtech) will manage the program.
"Solutions to the many daunting problems facing the global community will come from first rate science, engineering and technology research institutions," says Citrin, who is also co-founder and board member of Gloto Corp. "I can think of no better way to invest in our collective future than to invest in the Clark School of Engineering."
Interested graduate students will complete an application process to enter the program. A committee will select the best candidates.
"The Warren Citrin Graduate Fellowship program will enable the Clark School to attract talented graduate students to address the critical societal issue of sustainability while contributing to an increasingly entrepreneurial culture at the University of Maryland," says David Barbe, executive director of Mtech.
Citrin's gift also supports a new half-time position at the university dedicated to helping the four fellowship students commercialize their technologies. That position will be housed under Mtech's VentureAccelerator Program, which helps university faculty and students launch successful ventures from their inventions by systematically guiding and coaching inventors through new business processes such as: sound business planning; understanding customers and markets; setting goals and priorities; acquiring skills and recruiting talent; and raising capital.
Launched in 2003, the program helped grow Lurn Inc. into one of the fastest growing companies in the U.S. and an Inc. 500 listing in 2009.
In 2007, Citrin established the $250,000 Impact Pre-Seed Fund, which offers grants, in $500 to $5,000 increments, to students in Mtech's Hinman CEOs, Hillman Entrepreneurs, and Entrepreneurship and Innovation programs. Students in those programs present business plans for new companies that benefit society to qualify. The funds are also used to support the University of Maryland $75K Business Plan Competition's Social Impact Award each year.
Citrin is an accomplished businessman and engineer who received the Ernst & Young Entrepreneur of the Year award in 2003. He received a BSEE from the University of South Carolina in 1973 and an MS in Applied Mathematics from the State University of New York at Stony Brook in 1976. Citrin led numerous system engineering and radar processing programs over his 18-year career at the Johns Hopkins University Applied Physics Laboratory before co-founding Solipsys Corporation in 1996. As CEO of Solipsys, he provided strategic vision and leadership to grow the company before it was sold to Raytheon Company, a Fortune 50 company, in 2003.
"Sustainability problems are like a meteor coming our way," says Citrin. "People younger than me are not going to be able to escape them. My hope is that something good can come from these fellowships to divert this meteor or perhaps lessen its impact."
About the Maryland Technology Enterprise Institute (Mtech) (www.mtech.umd.edu) 


The mission of the Maryland Technology Enterprise Institute (Mtech) is tri-fold: educate the next generation of technology entrepreneurs; help entrepreneurs create successful technology-based ventures; and connect Maryland companies with university resources to help them succeed. Founded in 1983, Mtech has had a $22.5 billion cumulative impact on the Maryland economy through its programs. Mtech is a unit of the A. James Clark School of Engineering at the University of Maryland.
More Information:
Warren Citrin Graduate Fellowship Introduction
Warren Citrin Graduate Fellowships from Mtech University of Maryland on Vimeo.
About the A. James Clark School of Engineering
The University of Maryland's A. James Clark School of Engineering is a premier program, ranked among the top 20 in the world. Located just a few miles from Washington, D.C., the Clark School is at the center of a constellation of high-tech companies and federal laboratories, offering students and faculty access to unique professional opportunities.
Our broad spectrum of academic programs, including the world's only accredited undergraduate fire protection engineering program, is complemented by a vibrant entrepreneurial ecosystem, early hands-on educational experiences, and participation in national and international competitions.
The Clark School is leading research advancements in aerospace, bioengineering, robotics, nanotechnology, disaster resilience, energy and sustainability, and cybersecurity. From the universal product code to satellite radio, SMS text messaging to the implantable insulin pump, our students, faculty, and alumni are engineering life-changing innovations for millions. Learn more at www.eng.umd.edu.