Two Hinman CEOs Students Earn Prestigious Goldwater Scholarships
FOR IMMEDIATE RELEASE April 19, 2010
CONTACT:

Eric Schurr
301 405 3889
schurr@umd.edu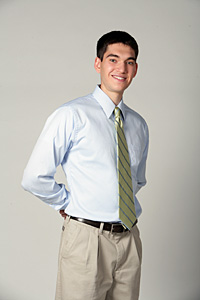 COLLEGE PARK, Md.—Two students in the Maryland Technology Enterprise Institute (Mtech) Hinman CEOs Program have been awarded scholarships by the Barry M. Goldwater Scholarship and Excellence in Education Foundation, which encourages students to pursue advanced study and careers in the sciences, engineering and mathematics.
Sophomore Alexander Leishman and junior MengMeng Xu were among four students from the University of Maryland and 278 nationwide selected from 1,111 nominations. All four UM nominees won Goldwater awards.
"Entrepreneurship, leadership and the drive to excel often go hand-in-hand," says James V. Green, director of the Hinman CEOs Program and director of entrepreneurship education at Mtech. "We are proud of Alexander and MengMeng and look forward to encouraging and supporting their entrepreneurial endeavors and successful careers."
The Goldwater Scholarship program was created in 1986 to identify students of outstanding ability and promise in science, engineering and mathematics, and to encourage their pursuit of advanced study and research careers. Colleges and universities can submit up to four nominations annually for these awards.
About Alexander Leishman
University of Maryland Sophomore
Major: Aerospace engineering
Minors (planned): Germanic studies and international engineering
James Hubert Blake High School, Silver Spring, MD
Alexander plans to earn a Ph.D. in aerospace, mechanical, or oceanic engineering. He hopes to help advance the mechanical, sensing, and systems design of submerged vehicles, through research, with the goal of enhancing the ability to explore and monitor bodies of water for scientific research.
About MengMeng Xu
University of Maryland Junior
Majors: Biochemistry and Economics
Centennial High School, Ellicott City, MD
MengMeng plans to earn an M.D. and Ph.D. in biochemistry. She hopes to conduct research in drug delivery, perform clinical trials and teach at the university level. She is also interested in exploring the possibilities of incorporating natural developmental mechanisms into safer, more efficient, target-specific drug delivery systems.
Goldwater scholars receive one- or two-year scholarships that cover the cost of tuition, fees, books, and room and board—up to a maximum of $7,500 per year. The scholarships are also a stepping-stone for future support for their research careers, according to the foundation. Goldwater Scholars have very impressive academic qualifications that have garnered the attention of prestigious post-graduate fellowships and distinguished honors.
About the Hinman CEOs Program (www.hinmanceos.umd.edu)
As the nation's first living-learning entrepreneurship program, Hinman CEOs is a groundbreaking initiative placing entrepreneurial-minded students from all technical and non-technical academic disciplines in a unique community. Students live together, learn about entrepreneurship, and can launch new ventures. The mission of Hinman CEOs is to foster an entrepreneurial spirit, create a sense of community and cooperation, and develop ethical leaders. All undergraduates from the University of Maryland, College Park are invited to apply for this competitive program. Brian Hinman, University of Maryland A. James Clark School of Engineering alumnus and successful entrepreneur, provided $2.5M to initiate and support the Program.
About the A. James Clark School of Engineering
The University of Maryland's A. James Clark School of Engineering is a premier program, ranked among the top 20 in the world. Located just a few miles from Washington, D.C., the Clark School is at the center of a constellation of high-tech companies and federal laboratories, offering students and faculty access to unique professional opportunities.
Our broad spectrum of academic programs, including the world's only accredited undergraduate fire protection engineering program, is complemented by a vibrant entrepreneurial ecosystem, early hands-on educational experiences, and participation in national and international competitions.
The Clark School is leading research advancements in aerospace, bioengineering, robotics, nanotechnology, disaster resilience, energy and sustainability, and cybersecurity. From the universal product code to satellite radio, SMS text messaging to the implantable insulin pump, our students, faculty, and alumni are engineering life-changing innovations for millions. Learn more at www.eng.umd.edu.